It's that time again – Insta event time! We have a packed week over on the @asfairs Instagram in the build-up to our 7th Insta Decorative Home & Salvage Show on Saturday 29 January (10am-4pm); a virtual fair where you'll be invited to peruse quality antique, vintage and salvage wares for the home and garden from 50+ excellent dealers, and all from the comfort of your own home.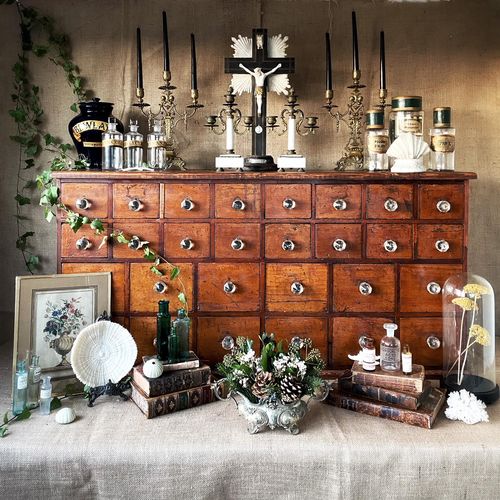 Image: Fox & Peel
How the Insta Event works
An Insta event like this really is the next best thing to an 'on the ground' fair and the way it works is very simple; Arthur Swallow Fairs will introduce buyers to the dealers on Instagram @asfairs on the morning of the event, from here buyers will be invited to click through to each exhibitor's Instagram account to browse and buy directly from them. Each exhibitor will be listing stock especially saved for the event and will be available to take enquiries all day.
Please note: Arthur Swallow Fairs is the event host and will not be involved in any transactions during the event, all purchases will take place directly with the seller.
Image: Miss Flytes Attic
Live Chats
At 7pm on Thursday 27th event organiser Alice Roberton will be hosting a LIVE #asfairstradetalk where she'll be chatting to exhibitors @stoneandsageshop, @smouk_interiors and @merchantandfound – she'll be asking all three guests why and how they entered the trade, what they love about antiques and what treats they have in store for the event.
At 6pm on Friday 28th Alice will be hopping over to another one of our excellent exhibitors @frenchgeneraltrading for a #FrenchFriday chat about all things fairs and fabulous. Pour yourself a vino and join us!
LIVE LAUNCH: Please set your alarms for 9.30am on Saturday when we will be kicking off the Insta Event with a LIVE chat with antiques dealer, owner of @hoof.antiques_brocante and now familiar face and dealer on the BBC's The Bidding Room, Adi Higham. We'll also be chatting to our exhibitors throughout the day at 1,2,3 and 4pm, so tune in!
Exhibitor List
At 4pm on Friday 28 Janaury we will be publishing the full exhibitor list @asfairs which will enable you to explore all 50+ dealers in readiness for buying from 10am on Saturday.
We hope you can join us, from all at Arthur Swallow Fairs x
For up-to-date info visit Instagram, Facebook and Twitter. To keep up-to-date with all our news you can subscribe to our newsletter over on the home page.